Reiner Winterschladen, trumpet
Hans Lüdemann, piano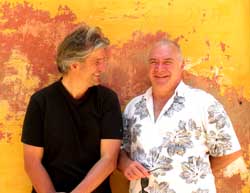 "You do not necessarily expect sensational things from a duo with trumpet and piano. But Reiner Winterschladen and Hans Lüdemann are simply breathtaking."
(Sax, city magazine Dresden)
The two musicians have developed an intuitive understanding for each other where there are "no questions" (Winterschladen). From the first second they dive into an intensive dialogue of sparkling suspense, between tenderness and furious virtuosity. There is only one musical flow within the long curves they create. Themes and improvisations emerge naturally in its process.
Their duo program is equally carried by both musicians. It is marked by the two poles of musical communication and original compositions that have partly been created speciifically for this project. Joyfully, they draw on all available sources of sound and inspiration. Hans Lüdemann's experience with African music is part of it as is Winterschladen's expressivitiy that uses all imaginable and unimaginable sounds of his instrument. For a moment in outer space, the next instant we find ourselves in the jungle. Both musicians share their fascination for simple musical elements. From small musical cells they construct acoustic buildings, set signs, send out signals and messages to their listeners. As they are forceful and vital players, their duo is both a listening experience and a stage event.
Winterschladen and Lüdemann had their first aquaintance at the Moers Festival 1995, were they participated in a project. Their collaboration started in Hans Lüdemann's group RISM in 1997 (double CD "FutuRISM" on JazzHausMusik). Their duo program was first presented on a German tour in 2000. The first CD came out in 2001 on KONNEX, many more concerts followed. In 2008, Winterschladen/Lüdemann appeared at the St. Louis Jazzfestival/Senegal. A second CD is in preparation.
CD
Hans Lüdemann & Reiner Winterschladen "Heavy Hearts", 2013, A-Jazz/NRW
Hans Lüdemann & Reiner Winterschladen "Mysterious Call", KONNEX, 2001