Hans Lüdemann, piano/Clavichord
Toumani Diabaté, Kora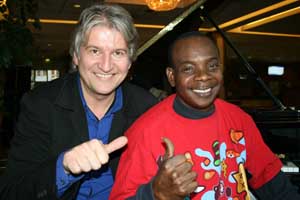 Piano and African Kora harp are a seductive combination. They create relaxed and atmospheric musical landscapes: Warmth and width, deserts and horizons emerge and are shaped out of the the flowing sounds of the two instruments.
Toumani Diabaté and Hans Lüdemann succeed in dissolving the borders of their cultures in their impressions and dialogues and reach a high level of inspiration, nearness and intensity in their fusion. No other instruments could be more representative of each of its cultural traditions – Africa and Europe – more than these two, that are equally harmony, melody and rhythm instruments, solo voices and accompaniment. Improvisation and Jazz are the elements that unite both cultures and offer a wide range of points of contact. The historic keyboard instrument clavichord, ancestor of the piano, is another element that bridges the cultures with a sound that can get close to the kora and a history dating back to early days of kora music.
The two musicians have first worked together in Bamako/Mali, the home town of Toumani Diabaté, in 1999, as a duo and with his group. In 2002 they continued also in Bamako. In 2011, the project was premiered in Europe with concerts in Berlin and Köln. For 2012, a concert tour is planned.
Hans Lüdemann and Toumani Diabaté are two virtuoso players joining their forces. Toumani Diabaté ist probably the most famous soloist of the kora harp and stems from an old "Griot"-family of traditional musicians in Mali. Through his own solo and ensemble work and projects with musicians like Aly Farka Touré, the flamenco group Ketama, blues singer Taj Mahal, with Afrocubism, Herbie Hancock and Björk the two-time Grammy winner has explored a wide range of possibilities and connections of African music. Hans Lüdemann, regarded as one of the great pianists of Jazz, has worked with African artists over many years, notably with Aly Keita in the TRIO IVOIRE, with kora player Tata Dindin and singers Chiwoniso and Dobet Gnahoré. He has played with great Jazz musicians like Jan Garbarek, Paul Bley and Heinz Sauer as well and received a lot of attention and acclaim for his spectacular latest release in 2012: the 5-CD- box "die kunst des trios".
The collaboration of these two sensitive masters brings out colorful facettes of a unique and enchanting combination of instruments. Music of two musicians that are akin in spirit, whose musical depth and relaxed concentration touches the soul. Their music seems timeless, pure, universal and deeply personal. As Toumani exclaimed after the first recordings in 1999: "It's magic!".