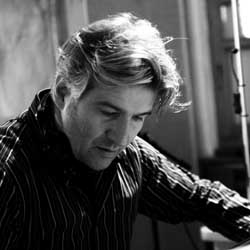 Hans Lüdemann was born 1961 in Hamburg, Germany, where he studied classical pianoat the Conservatory and Jazz piano with Joachim Kühn. In the 80s, Lüdemann studied Jazzpiano at the Musikhochschule Köln (Cologne) and in Banff/Canada with Dave Holland and Anthony Davis and was first to receive Master degree in Jazz Germany. Lüdemann started his professional career in 1985, touring Asia with the group of Eberhard Weber/Jan Garbarek. He has since worked with Paul Bley (duo CD), Marc Ducret, Heinz Sauer, Toumani Diabaté, Mark Feldman, Angelika Niescier, and many other great artists.
Lüdemann is mainly working on his own projects, that partly show his affinity to African music. These include solo programs, the TRIO IVOIRE, the group RISM, duos with Reiner Winterschladen and Tata Dindin. Lüdemanns music is documented on more than 20 CDs, he is a regular guest on international concert stages and festivals. As a composer, Lüdemanns works range from solo to orchestral music. He was member of the federal German composition jury for Villa Massimo/Rome prize from 2003 - 2007. Lüdemann has taught at the Musikhochschule Köln 1993 - 2008, at the "European Academy Montepulciano" since 2001 and as a guest lecturer at many European and African universities. He has been appointed "Cornell Visiting Professor" at Swarthmore College/USA for 2009/2010.
Lüdemann likes to go on adventurous musical journeys, expanding the piano with samples into a microtonal instrument and reviving the historic clavichord. "one of the most original and expressive European pianists" (Jazz Podium)
A discography and biography, reviews etc. to download.