Hans Lüdemann, Piano / Virtual Piano
Yves Robert, Posaune
Silke Eberhard, Altsaxophon / Klarinette / Bassklarinette
Alexandra Grimal, Saxophon / Tenorsaxophon
Theo Ceccaldi, Violine
Ronny Graupe, E-Gitarre
Sebastien Boisseau, Kontrabass
Dejan Terzic, Schlagzeug / Percussion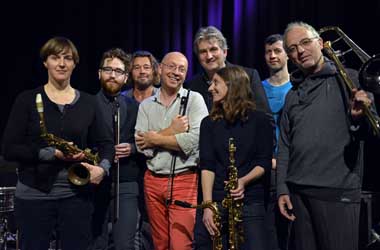 The Trans Europe Express picks up speed. In may/june 2018, the first album of the octet entitled "Polyjazz" is released and presented in concert. The ensemble is formed by eight high-profile German and French musicians from the contemporary creative Jazz scene who are taking their share in exceeding musical and human borders. Established greats such as the French trombonist Yves Robert work side by side with young talents such as the German guitarist Ronny Graupe (on the album replaced by Finnish Kalle Kalima) and violinist Theo Ceccaldi. The frontline is formed by saxophonists Silke Eberhard and Alexandra Grimal.
An energetic rhythmic base is ensured by the trio Rooms with Sebastien Boisseau, Dejan Terzic and the artistic director of the band, Hans Lüdemann, pianist and ECHO Laureate 2013.
The TransEuropeExpress is not a classic jazz band, but an unconventional formation opening maximum creative freedom and knowing no limits. The mission of the ensemble is to go on a journey, connect people, stations and places with their music, as well as to express impressions and emotions in a musical communication. It builds new European connections and takes us, starting from the Franco-German axis, on a fast ride to unknown destinations.
The works composed especially for the ensemble by its musicians and their jointly created improvisations are characterized by a stylistic openness, integrating elements of rock, minimal, new music, electronics, microtonality and free improvisation. The result is a multi-coloured, energetic, highly explosive and absolutely contemporary music, rich in contrasts of nice and dirty sounds: a "polyjazz", where the European polyphony and dynamic polyrhythms are fusioned with microtonality and electronic sounds, leaving postmodernism behind. Due to the individual expressiveness and compositional skills of each musician, the variety doesn't turn to arbitrariness. It is bundled in an ensemble sound, where the individual voices are blending into a colourful, but surprisingly homogeneous whole. Characteristic for the T.E.E. are the contrasts and balances of the more structurally conceived "German" contributions and the more playful and impressionistic "French" flair in the band.
In September/October 2013 the "TransEuropeExpress" started with premieres in Paris and Köln, 2014 it had a celebrated appearance at the Jazzdor festival Berlin, documented by Deutschlandradio. 2015 the group performed in Strasbourg/Offenburg and Budapest and made the studio recordings for its album. With the CD debut the TransEuropeExpress presents itself as a unique collective of individual creative voices with its own musical program. For the future, the group sets out to open up in new directions for the realization of variable concepts and projects in the area of contemporary jazz/improvised music in and outside of Europe that can be extended beyond the current lineup.